Homeschooling is one of the greatest blessings in my life. Not only because I get to spend time with my children, but I also get to learn alongside them. One way that we implement learning is by doing a daily morning time. We start each day with reading scripture and singing hymns, and it's really an impactful rhythm in our family life. You can choose whatever subjects to add to personalize for your family.
"The question is not, — how much does the youth know? when he has finished his education — but how much does he care? and about how many orders of things does he care? In fact, how large is the room in which he finds his feet set? and, therefore, how full is the life he has before him?"
-Charlotte Mason
The above Charlotte Mason quote is one that I remind myself of again and again. And it is a driving force in how I plan our homeschool year, and especially how I plan our Morning Time. Morning Time is my favorite time of the school day. This will be our fifth year employing it to start our day, and every year I see the fruit and beauty of it.
I cannot take credit for the idea of Morning Time. If you have been in the homeschool world for a second, you have probably heard of it. Cindy Rollins is the queen of morning time. She is the one who coined the phrase and put it on the map. Mrs. Rollins is a homeschool hero in her own regard, and has taught so many women the value of a daily Morning Time to start their homeschool days. She has written several books that have inspired me as a homeschooling mama. Others may call it a Morning Basket or a morning gathering. It may go by lots of different names.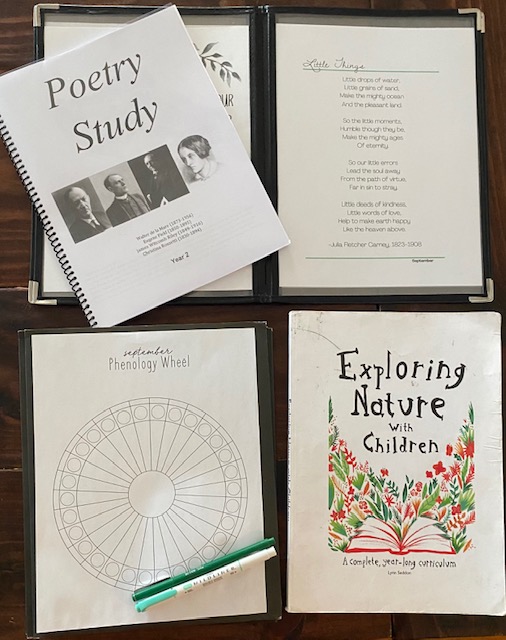 What is Morning Time?
The simple description is that it's a daily gathering that is centered around beauty and the Gospel. It's a daily rhythm that anchors ours days at home. I wanted to start our days praying and reading the Bible. As a mama of toddlers, it was the beginning of my homeschooling journey. Morning Time was my first step of faithfulness and consistency. I hung up a Bible verse and I had a hymn and poem chosen for every month, and we would pray, sing, recite, and read the Bible every day over breakfast. It started as a 5-10 minute span of faithfulness and has grown every year since. I literally hung it on the wall because I knew if I saw it, I would remember to do it.
Supplies
We now use a restaurant menu cover to hold all of our selections, but I would really recommend hanging them up or having them all in a basket as you grow in this daily habit. Make it easy o yourself by not having to gather materials daily. I think the early years of homeschooling preschoolers is mostly about the mother training herself to be faithful, and figuring out ways to do just that. I knew I did not want to look back and regret not getting Scripture and prayer into my kids hearts and minds daily. Morning Time was my plan on how to do just that. Galatians 6:9 is my homeschooling & mothering verse that speaks to my heart so much because there will be so many days, year even, where we do not see any fruits of our labor, and we must continue on in faithfulness to God and our families.
"And let us not grow weary of doing good, for in due season we will reap, if we do not give up."

Galatians 6:9
What is included in Morning Time?
Our morning time is focused on the riches, and I would say that now from start to finish, it takes us about 30 minutes to complete. We start each day with prayer, calendar time, and then we start with our readings and recitations. This year we are following the Ambleside Online schedule for Bible, Poetry, Hymns, Folk Songs, Composers, and Artists. We also recite a passage each term and a new Bible verse each month, along with a new poem each month. I do not make my children memorize perfectly, but I do find that by reading things daily, and even weekly, they usually do end up memorizing these.
We now end our Morning Time with History and that leads us into our lessons for that day.
There are so many ways to make it fun and make it your own. We learned lots of songs together like Fruits of the Spirit and the Books of the Bible. We have finished lots of picture books and read alouds, and prayed lots of prayers for family and friends. You can add in specific things that your family values or prioritizes. The sky is the limit!
Subject Ideas for Morning Time:
Bible
Poetry
Theology
Hymns
Folksongs
Bible Memorization
Character Training
Artist Study
Composer Study
Grammer
Language Study
Taking 30 minutes daily to invest in these subjects, or whatever subject you choose, will amount to is much time over the course of the year.
More Homeschool Posts: