Summer is a time to slow down for us because it gets really hot here in Oklahoma! The mornings have a slower start to them as we are on summer break from school. We get out early for errands, park or water play. And then we wait until the sun is about to go down to go out and water the garden and check on the flowers. It's the perfect time to be in and spend the hot, mid-day hours reading summer picture books with the children!
"Each little flower that opens,
Each little bird that sings,
He made their glowing colours,
He made their tiny wings."
Maker of Heaven and Earth, by Cecil Frances Alexander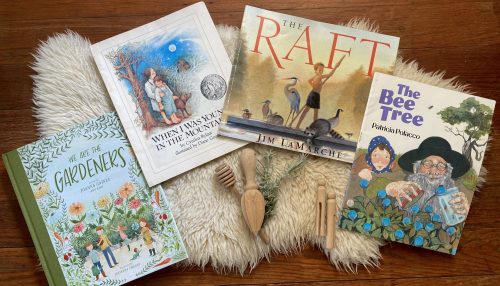 Read, Rest, Enjoy Books
It's really important to keep reading aloud to your children that can already read. It is a great time for family bonds to strengthen as you enjoy books together. The family culture that comes from sitting down or cuddling up together with good books really is irreplaceable. I already know that I will miss these days. We have so many picture books that I will be saving to enjoy with my grandchildren.
Tips to Help You Enjoy Reading to Your Children
One of the main things that helps me enjoy reading aloud to my children is finding books that I enjoying reading TO them! This includes making sure the illustrations are beautiful, the story is strong and not watered down with weak language… basically making sure the books you are reading are Living Books! It really does make a difference to read quality versus kiddy, twaddley books. Here is a list of ten of our favorite summer picture books to peruse during those sweet hours of the day where you are cooped up. I hope you enjoy them just as much as your kids!
10 Summer Picture Books to Enjoy Together
Pin for Later…
More Posts to Enjoy: